What is the Fleet Club?
BIO-DRY created the Fleet Club especially for Fleet Managers. Receive special discounted pricing on our waterless concrete and asphalt cleaners to help keep you out of trouble when on the go.
Free to Join! Start Saving Today
BIO-DRY's waterless cleaners are
Easy to use
Require almost no time and
Are environmentally safe.
Avoid customer complaints or heavy fines. You have enough to worry about. You shouldn't be spending time dealing with headaches from oil drips.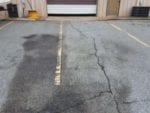 BIO-DRY's waterless concrete and asphalt cleaners work on oil, diesel, transmission fluid, hydraulic fluid, and all other harmful hydrocarbons.
BIO-DRY's Cleaners work in 3 ways:
Absorbs the oil stain
Breaks the oil away from the concrete or asphalt
Breaks down the oil in to harmless CO2 and water over time.
In most cases, you can just apply and go, not ever worrying about having to return. This saves you time and your department's bottom line.